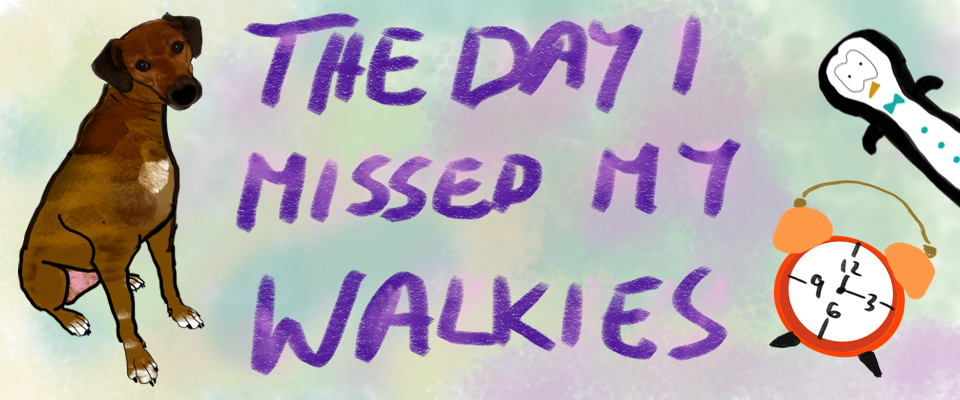 The Day I Missed My Walkies
"The Dog's day is very strange indeed! No walkies today, not even a short one. This is very much unlike the Hooman!" In this short, narrative experience, you are trying to help the Dog solving a curious mystery through dialogue choices, point and click and finding hidden objects.
The included video contains a full playthrough, however, it has spoilers for the narrative! You can, however, watch it if you are stuck.

This game was created with Fungus/Unity by Timea Farkas - including design, development, writing, music composition, character art and environmental art - with the exception of the following 3rd party assets:
Clocks, Books, Plants, Items on Shelves, Items in Closet, Shoes, Boxes, Bear, Cobweb
Some sound effects were also purchased from the Unity asset store.
Install instructions
The game plays in your browser, however, the quality of audio and smoothness of transitions is lacking when compared to desktop. Therefore, downloading the game is strongly recommended for the full experience!
To play the game on your desktop, choose the build for your operation system. Unzip the files and look for the executable (.app on MacOS and .exe on Windows).
Certain versions of Unity produce an error when building MacOS files. You might get the following error message:

If you do, please follow this workaround:
Open the terminal and copy the following line, changing the "path" to the path where the game is on your Mac:
"xattr -r -d com.apple.quarantine path/to/walkies.app"

If it doesn't work, play the WebGL version for now.